Mike: It's been over three years since the first Museum of Curiosity show. This one at Hang-Up Gallery is a bit different, it's less of a massive clusterfuck of stuff, and a bit more curated and refined, but it's along the same theme of mixing curiosities and artworks. You were a part of the first one and have agreed to be a part of Wondrous Obsessions. What is it that appeals to you about the curiosities theme?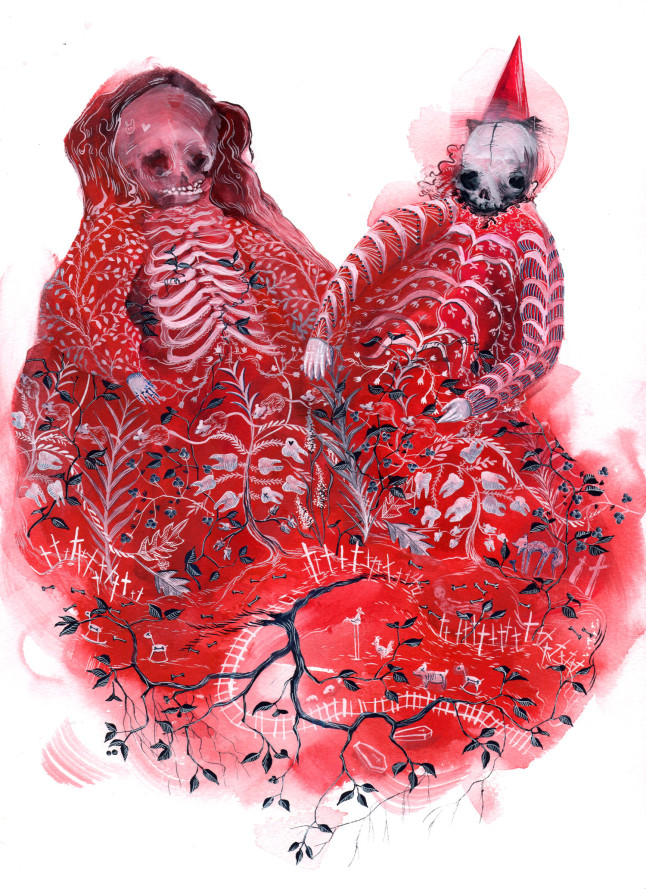 All Of Us
Candice: Do you remember when I first started working with Black Rat? You'd send me these clipped, one line emails detailing your latest score.
I didn't know you very well, but I loved that you were showing me the weird things you were finding because it's the sort of stuff I love to look at but never saw or thought of as existing outside the confines of museum glass and controlled temperature settings. If you can't remember, here's some great Candice-Mike e-memorabilia:
"I bought a dolphin skull. It's pretty great." - 8/10/12
I didn't know where you were heading with the purchases, but I was enjoying watching you gather steam and although the sentence above might appear to contradict me here, you seemed really excited about it. At first I didn't know you were planning a show, or that it would combine art - so when you invited me to send work along, I was really excited because it felt as far away from a white-walled any-new-shit-we-can-hang-and-sell kind of gig as you can get.
And I feel the same way about it this time. No, that's wrong. I'm more excited this time because I'm not so scared about where I'd fit in or what I'd send and I've grown to actively anticipate your shows. They're always stand-out and I miss working with you.
They Told Me To Wait Here And They'd Be Right Back
M: It's odd, and maybe a bit creepy, to read old messages from my earlier self... Creepy isn't quite the right word, but the thing that always appeals to me about your work is that it's unsettling in a really specific way. Like a fairy tale gone bad. I think it lends itself really well to the curiosity setting, which is about discovery and wonder and stuff like that.
I realised when I looked at the list of artists I hoped would be in the show that you'd collaborated with quite a few of them - Butch Anthony, Laura Keeble and Giles Walker. I wonder if here is a loose theme between you and the people you collaborate with that makes you all naturally fit the curiosity exhibition? Also, what's the appeal of collaborating and what does the experience give you that you don't get working alone?

There Must Be Something In The Water - Gold Edition
C: Yeah, it's kind of horrible of me to show you old emails, isn't it? That one barely counts since you don't sound like a dick and you didn't even make any errors. I wish I had one in which you are clearly just a little bit drunk.
This Will Hurt Tomorrow - Detail
I think of collaboration as something that other artists do; I didn't even realise I'd collaborated with so many (three feels like MANY). I don't think I could ever share a canvas with someone in terms of process. Butch was great because the way he works is perfectly suited to me getting my own way while I work and then just handing it over in good faith; he took the 'finished' article and added his own spin to it, which I loved. We didn't have to work around each others' delicate feelings. I wasn't worried about what he'd do because I already understood and was ready for it to become something different.
The appeal of collaborating boils down to basic fandom. I wouldn't be able to do it if I was wary or at all doubtful- being a fan helps to eradicate any of those concerns. If anything, I worry that I'll fuck it up for the other artist involved. I think that kind of fear is key in avoiding self-satisfaction, so I'm happy to have it.
I think We Are In Over Our Heads - Candice Tripp and Butch Anthony
M: I love the collaboration piece with Butch that's going to be in the show. It's wicked. Do you have any idea of what else you might make for it? Is that a shitty question to ask?
Detail of I think We Are In Over Our Heads
C: I love that you love it! Thank you!

I've just had an idea that I'm really excited about, but I'm worried I won't pull it off. And I need to finish it so I can pick your brains on display ideas. I want to send you the earthly remains of Idi Amin's shoulder demon.
M: That would sound weird if it came from anyone else but sounds perfectly normal from you. I'm looking forward to the conversation.
I know people send you skulls, and wondered if they were requested or just turn up unannounced in the post? Basically, what's the deal with that?
George Can't Go Home Until He Finds His Brain
C: They just turn up. I mean people also send me books and art and socks and things I can eat.
It's really touching. They're precious things and I'm always amazed that people would just give them to me.
M: Do you have a favourite skull, like one you lust after owning? I want a woolly mammoth or a whale.
C: This will sound a bit nasty, so level with me; I don't really think about the dead shit I'd like to own but I have found myself recently thinking (when I meet a friend's new dog) "wow, he/she must have a lovely skull".
Tiff has made me think a chihuahua skull would be a great thing to have. I also think dachshunds also have very shelf-worthy heads.
Did you ever see those cartoon skeletons that Hyung Koo Lee made? I'm a huge fan of those...I think getting a chihuahua would be as close to owning one as I could get.
Sally Dolls
M: I don't know them. I'm going to look them up. The dog skull thing, maybe it's fine?
So, one more question. It's a bit cheesy. The show is called Wondrous Obsessions (the art of collecting) and is about that natural human instinct to collect stuff. Shells, or football stickers, or art or whatever. Do you have a wondrous collecting obsession?

C: Somewhere along the line I started to feel disgusted with myself whenever I felt the need to amass *things*. With every house move I'd get rid of more objects that I felt weighed me down. Ultimately I want to be the sort of person who could watch their house burn and just feel happy that everyone who lived there is safe.
Some things I'll hang onto forever; my skulls, the few pieces of art I own.
It's no fiery obsession, but I've long nurtured a lukewarm soft spot for sake bowls. So no. I have wondrous collecting obsession. Shit.
Haunted House Collection
M: Are you coming to the opening?
C: Yes, I'm coming!
M: Thanks Candice.
Thank you Mike and Candice!
Wondrous Obsessions: The Art Of Collecting - Curated By The Connor Brothers
Private view Thurs 5th May 6-9pm