1) THE CONNOR BROTHERS
The artist duo have seen great success in 2015 with both their own artistic creations as well as their charitable work. Their collaboration with Pussy Riot at Dismaland and also in their work in aid of the refugee crisis will continue in to the New year with many exciting projects set to raise even more money for the cause. With their near sell out show So It Goes.. at Hang-Up in November, we are excited to see what other new works they will be treating us to in 2016. The Connor Brothers will be commencing the year with one of the first important events of the art world, London Art Fair that kicks off on the 20th Jan.
2) kennardphillipps
Another artist duo to excel in 2015, Peter Kennard and Cat Phillipps continue to be one of the top political artists of our time. Chosen to exhibit at Banksy's Dismaland, their billboard of David Cameron was one of the most iconic images of the exhibition. With political tensions seeming to be continuously increasing, we are excited to see new ways in which kennardphillipps will artistically express these issues.
3) HARLAND MILLER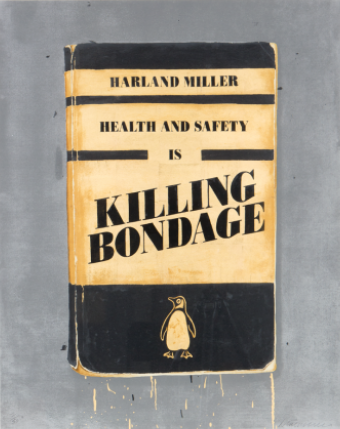 The combination of Harland Miller's painterly style and great humour, has seen his works continue to grow in popularity as well as value over the years and this does not look to be changing in 2016. The artists latest releases Health and Safety is Killing Bondage, There's No Business Like No Business and On Me Not In Me have all very nearly sold out so we shall be awaiting his next endeavour of 2016 with great anticipation!
4) MARK POWELL
Mark Powell will be kicking off Hang-Up's 2016 exhibition calendar with a solo show to follow our current Winter exhibition. With a brand new selection of his increasingly popular biro drawings, stay tuned to see what he has in store for us. Mark often goes off on great travels on which he finds antique documents and objects to draw on adding a great sense of history to his works, 2016 is sure to see a new set of discoveries and influences for the artist.
5) DELPHINE LEBOURGEOIS
Delphine Lebourgeois' works from her new Smoke series proved the most popular piece in our Summer exhibition Dog Days in 2015. Her new additions to the series have continued to prove extremely popular in the art fair circuit as well as in our Winter show HIBERNATE. With new works to be released at London Art Fair, 2016 is set to be another great year for the artist.
6) JOE WEBB
The past year has seen Joe Webb release a number of sell out prints as well as exhibiting his new large scale collages in his solo exhibition Sweet Armageddon at Hang-Up. Also exhibiting in a number of art fairs as well as being involved in charity auctions it was a busy year for the artist. With a number of highly anticipated releases to come in the New Year as well as a potential collaboration with The Connor Brothers, Joe is definitely one to watch.
7) ODDLY HEAD
Having only started to sell his creations for just over a year, Oddly Head has already made a huge impact. His intricate collages made up of hundreds of images see people hypnotised by the skilled layering. His combination of detailed images and humorous juxtapositions have definitely caught the people's eye!
8) MAGNUS GJOEN
2015 has seen Magnus have solo shows in numerous countries as well as exhibiting at a large number of art fairs and galleries. His show MONSTER at Hang-Up saw the artist experiment with a new direction, proving extremely popular. With a number of exciting projects in the pipe line for the New Year we are very excited to see what the artist will produce.