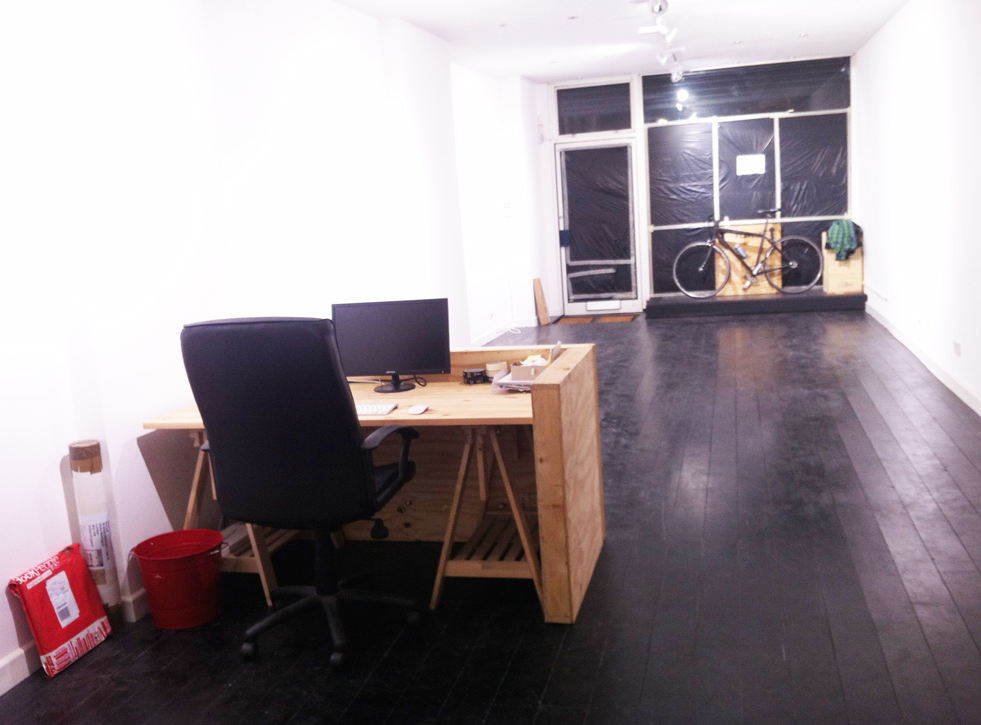 November 2012 the move-in commences
December 2012 -After a month of transformation Hang-Up opened it's doors with Magnus Gjoens Between Heaven and Hell exhibition.
March 2013 - The exhibition Altered Forms had the space home stuffed specimens by Nancy Fouts, strange figurative photography by Anja Niemi and beautiful fairy like cyanotypes by Rosie Emerson.
April 2013 -The space saw artist duo kennardphillips get political with their show Blue Murder.
June 2013 - Pulp Friction was the first of our exhibition with Joe Webb, seeing him cover the walls with his vintage collages.
July 2013 - Mark Powell turned the space into an antique haven with the walls filled with his biro drawings on old documents for his exhibition Drawing On History
September 2013 - Sir Peter Blake brought a splash of colour to Hang-Up with the exhibition POP
November 2013 - Radiohead artist Stanley Donwood created his Apocalyptic Boutique showcasing works that had inspired the bands Grammy award winning album.
December 2013 -Lauren Baker turned the space into an electrifying, gothic spectacle with her first solo show You Blow My Mind.
February 2014 -100 BPM exhibition saw Patrick Thomas' heart target prints adorn the Hang Up Walls.

March 2014 - Wall To Wall showcased works by the leading Urban artists including Banksy, KAWS, Shepard Fairey and more.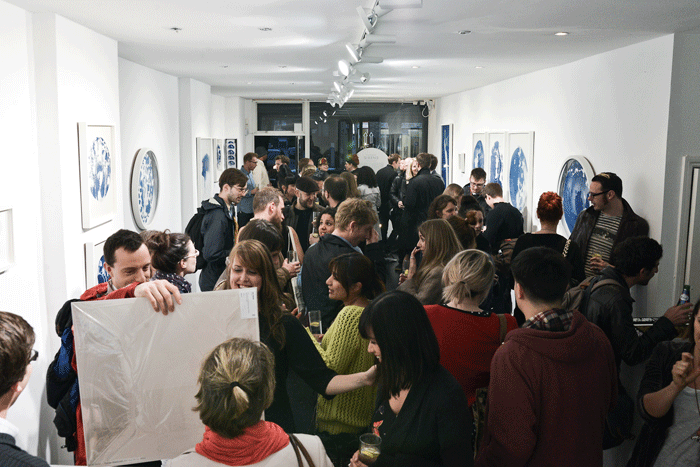 May 2014 - Rosie Emersons solo show Sirens turned back to the contemporary with her cyanotype of mysterious goddesses.
June 2014 - RUN's characteristic figures took over the gallery in his show Dancer Master.
August 2014 - Hang-Up Collections series of three shows exhibited a variety of works, rotating the work weekly to keep things fresh.
October 2014 - A very important month for the gallery as it saw a new addition to the team Mr. Flynn!
December 2014 - Hang-Up embraced the Christmas Yule with a group exhibition including Pure Evil, The Connor Brothers and Kristjana S Williams.
March 2015 - After opening the gallery with back in 2013 Magnus Gjoen returned with his show MONSTER.
May 2015 - Joe Webb returns with his apocalyptic collage series for Sweet Armageddon.
July 2015 - This summer saw our last show at number 56, Dog Days. We are extremely excited to reveal what exhibitions we have in store for you at the new gallery, watch this space!
Number 56 has been a home for the journey of Hang-Up which includes much work and play! We look forward to seeing you all at the new space for many more memories.