Jean-Michel Basquiat
Get Jean-Michel Basquiat Updates
Be the first to know about new Jean-Michel Basquiat Works and Viewing Rooms.
About
The most notorious artist of the 1980s New York gallery scene, Basquiat hung out with Warhol, appeared in a Blondie video, and died of an accidental overdose at just 27 years old. Starting his career with witty street scrawlings under the tag SAMO, he went on to achieve superstar status through topical pieces with wide-ranging reference points – from his Puerto Rican heritage to the medical textbook, Gray's Anatomy. Basquiat was a key figure in the neo-Expressionist movement and his works are priced accordingly: in 2017, his painting 'Untitled' became the sixth most expensive artwork ever sold at auction.
Artworks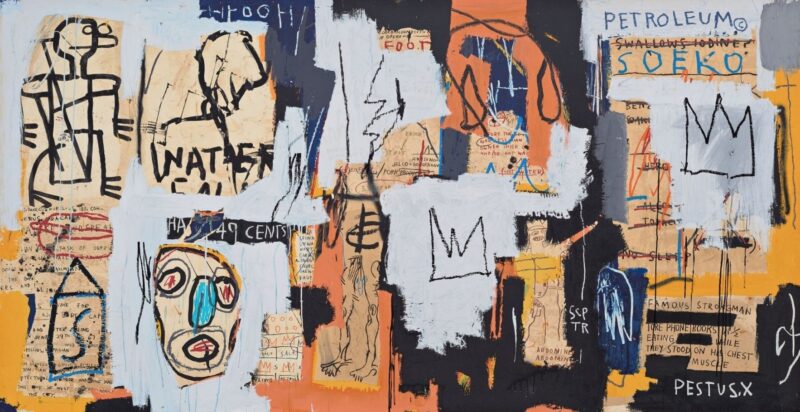 POA | £80,000 - £120,000
Info
Did you know?
Basquiat's graffiti name stands for 'Same Old Shit'.
Auction Record
$110,487,500
Sotheby's New York, 'Untitled', 2017
Notable Collections
The Daros Collection, Zurich, Switzerland
MACBA, Barcelona, Spain
The Barry Lowen Collection, LA, USA
Museum of Contemporary Art, LA, USA
Ken Griffin private collection
Notable Exhibitions
Basquiat's "Defacement": The Untold Story, Solomon R. Guggenheim Museum, New York, US, 2019
Jean-Michel Basquiat, The Brant Foundation, New York, US, 2019
Basquiat: Boom for Real, Barbican Centre, London, UK, 2017
Basquiat, Brooklyn Museum of Art, New York, US, 2005
Jean-Michel Basquiat, Whitney Museum of American Art, New York, US, 1992
Exhibitions by Jean-Michel Basquiat
15 May 2018 – 16 Jun 2018
Jean-Michel Basquiat Editorial
More artists you may like
Recently viewed artists
Hang-Up updates

Get our weekly collector briefing.