The George Micheal Collection
George Micheal built a unique, personal and admirable collection in his lifetime with the help of his former partner Kenny Goss, who was an art dealer. The collection heavily featured work by the Young British Artists, such as Tracey Emin, Damien Hirst and Sarah Lucas. Tracey Emin, with whom the singer formed a close friendship, had the most pieces in the collection, with nine of her works up for auction. Each artwork to be selected from his collection and put up for auction was sold, many of them setting new records, and raising £9.3 million for the charitable organisations the artist supported throughout his life. The event, which Christie's described as a 'celebration of (his) life, his art and his generosity', was the first public project relating to the singer since his death three years ago and was a great success.

Harland Miller Breaks Records

Incurable Romantic Seeks Dirty Filthy Whore by Harland Miller
British-born Harland Miller shattered his previous auction records with 'Incurable Romantic Seeks Dirty Filthy Whore', which was sold for £237,500. The artist's previous record was £75,000, achieved at Sotheby's in 2015 for 'I Am the One I've Been Waiting For'.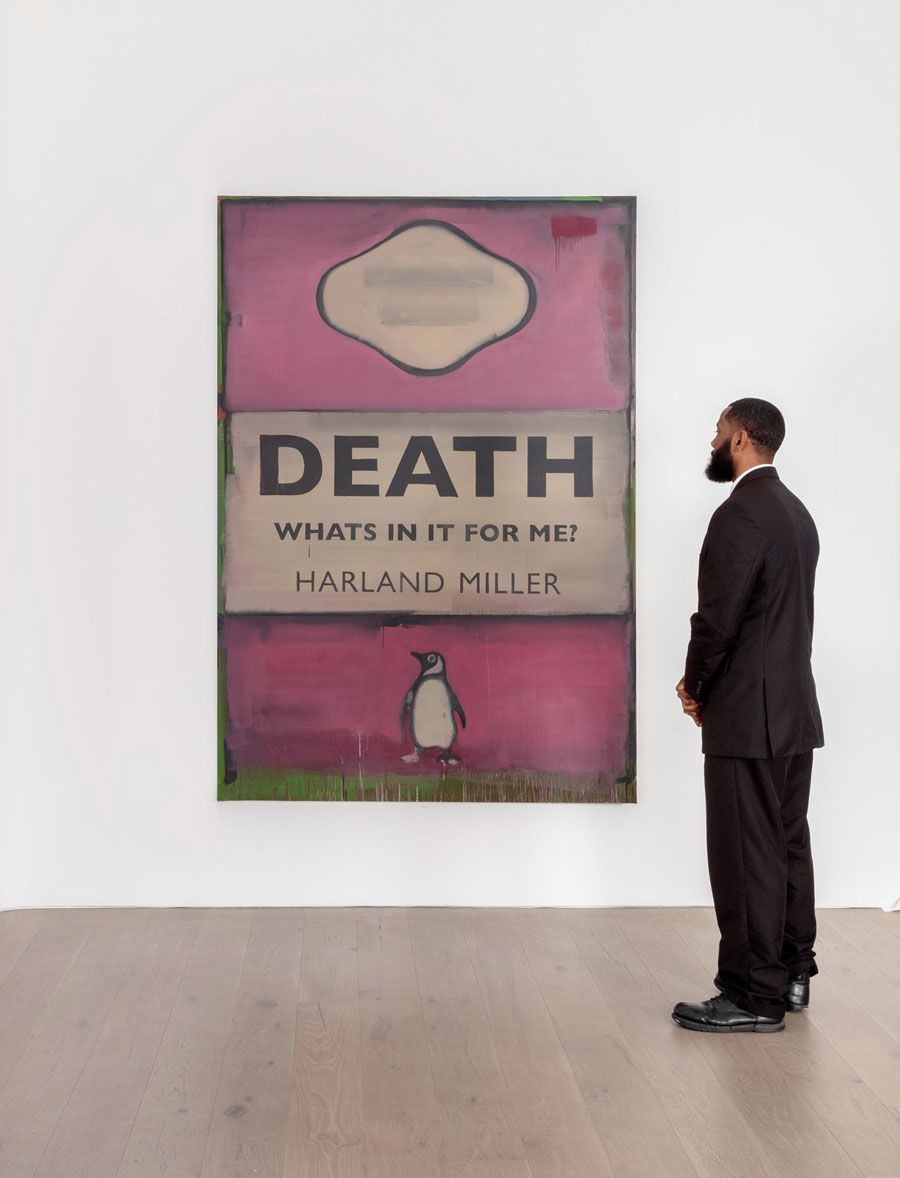 Death, What's In It for Me? by Harland Miller, image curtesy of Christie's.
Miller claimed another distinction with his' Death, What's in it for Me?' which sold for £212,500, making it the highest price achieved in the online sale. For Harland Miller's full catalogue click here.
More Records Made for Hang-Up Favourites...
Tracey Emin
Drunk to the Bottom of My Soul by Tracey Emin

Of the nine works by Tracey Emin included in the auction, eight soared above their estimates. A new world record was made for a painting by Emin with 'Hurricane' - which sold for more than double its estimate fetching an impressive £431,250.
Hurricane by Tracey Emin
Emin's unique neon piece, 'George Loves Kenny', commissioned by the singer in 2007, sold for £347,250 - more than five times its estimate of £60,000. 'Drunk to the Bottom of My Soul', one of Emin's characteristic appliqué blankets, was bought for £275,000.
For Tracey Emin's catalogue click here.
Bridget Riley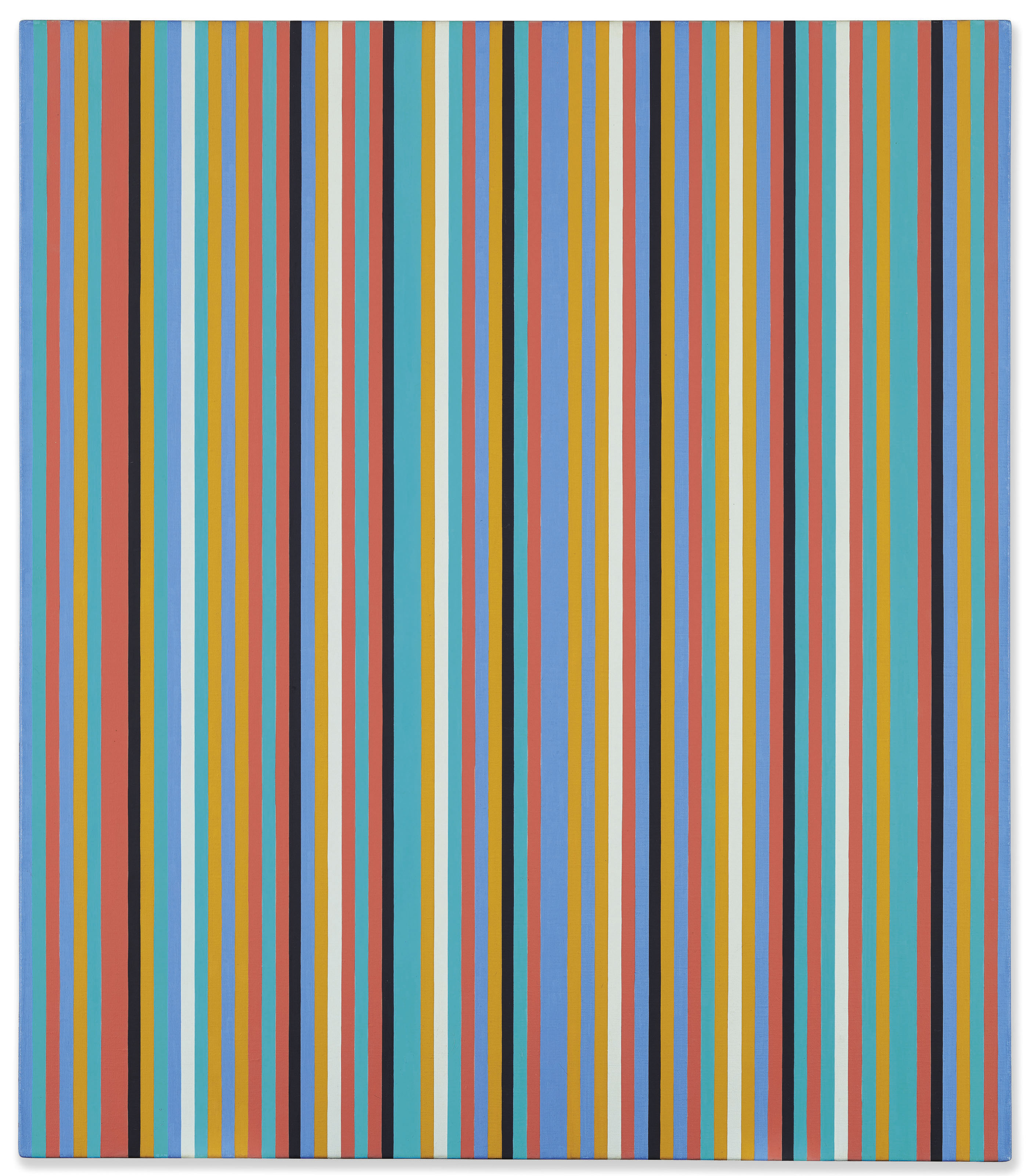 Songbird by Bridget Riley
Bridget Riley's 'Songbird', the first major work George Michael acquired for the collection, reached an impressive £791,250!

Click here for the catalogue of currently available pieces by Bridget Riley.
So...
Despite the current uncertainty of Brexit, the George Michael Collection auction was an encouraging result.
In a statement, Jussi Pylkkänen, the global president of Christie's, said:
Tonight's sale was another great moment for the London art market and particularly for so many YBA artists. We are delighted to have organised this landmark auction of The Collection of George Michael. An innovative collaboration with the Trustees of the George Michael Estate, we have witnessed significant footfall from fans and collectors alike to the exhibition. To realise such a significant sum, with proceeds from the sale being used to continue George Michael's philanthropic work, is what we've all been working towards. We hope the charities who will ultimately benefit will be pleased with the outcome.
Thanks for reading this week's blog. Don't hesitate to get in touch should you have any questions.
Love, Hang-Up Team