Frieze 2023: Top 10 Must-See Booths
Frieze is making its annual return to The Big Smoke next month. A welcome injection of energy, art, and people that follows the typically sleepier months of the late summer. We're looking forward to seeing what some of our favourite galleries have in store for this Frieze edition, October 11-15th 2023. Here's our round up of galleries, artists, and general art happenings Hang-Up has on its radar!
An international powerhouse in the art world, with over 15 exhibition spaces across the United States, Europe, and Asia, Gagosian Gallery blurs the line between museum and gallery. Consistently featuring some of the most significant artists of our time, their booth at Frieze is expected to be a highlight.
Jadé Fadojutimi's solo presentation at Gagosian's 2022 Frieze London stand sold out before the fair had even opened.
Photograph by Robert McKeever. Courtesy of Gagosian Gallery.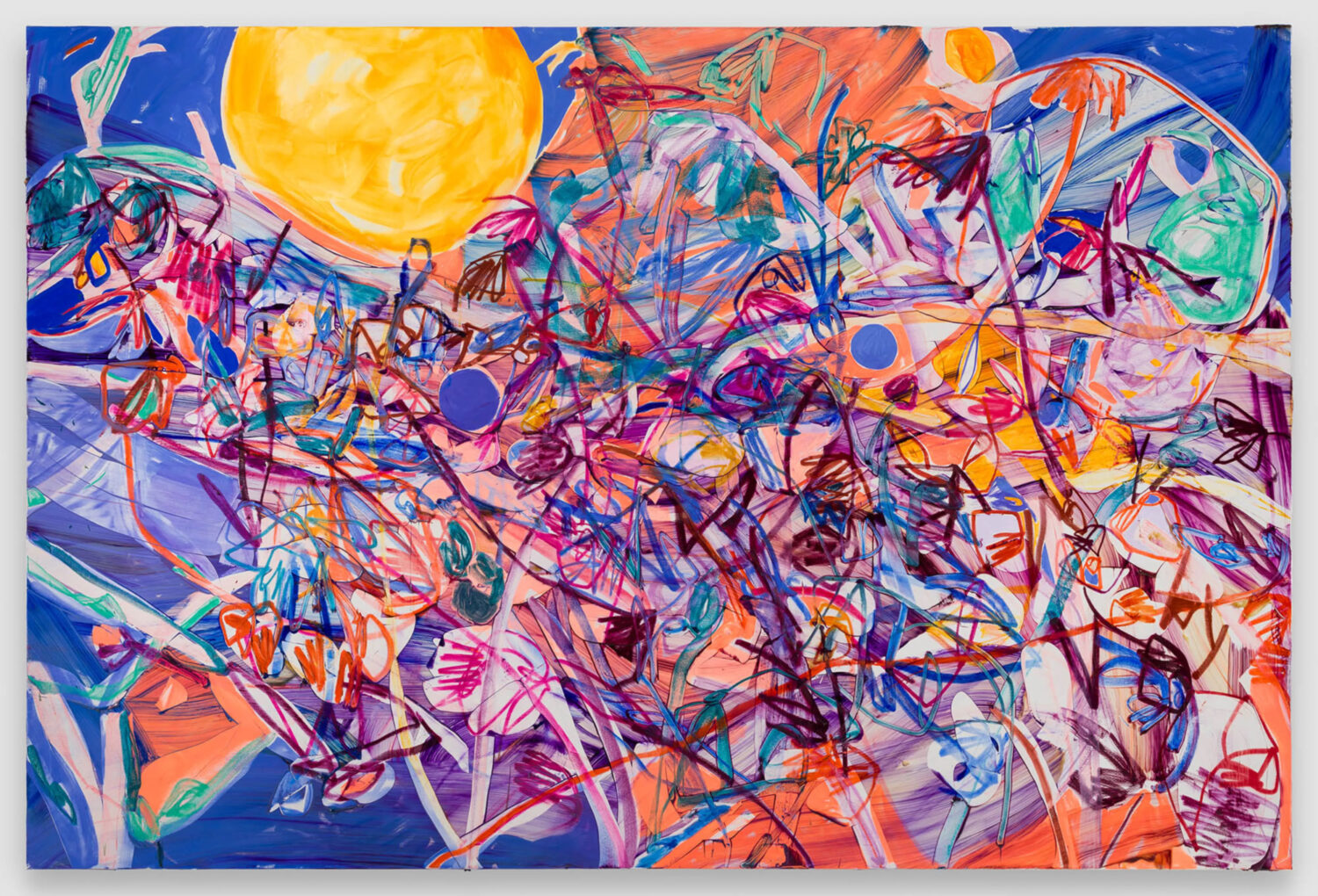 Jadé Fadojutimi, Untitled, 2022.
Photo by Mark Blower. Courtesy of the artist and Gagosian.
Known for its commitment to fostering innovative and pioneering contemporary art, David Zwirner Gallery's booth will undoubtedly be a must-visit. Since its establishment in 1993, they have served as a hub for groundbreaking and unique exhibitions spanning various mediums and genres. Expect thought-provoking art and visually stimulating curation.
Installation view of David Zwirner's booth at Frieze London, 2022.
Courtesy of David Zwirner.
Another global powerhouse, Pace Gallery, consistently represents some of the most influential artists in the contemporary landscape. With an impressive roster of artists including David Hockney, Yoshitomo Nara, JR, and Robert Rauschenberg to name just a few. Their commitment to artistic excellence and innovation will be sure to shine through this Frieze edition. Expect a diverse range of mediums and a mixture of fresh innovative talents.
Installation view of Acaye Kerunen at Pace Gallery, Frieze London, 2022.
Photograph by Damian Griffiths. Courtesy of Pace Gallery.
In the Artist-to-Artist section at this year's Frieze will be Carl Freedman Gallery. Recognised for its commitment to promoting and championing emerging talents, the Carl Freedman Gallery showcases cutting-edge contemporary art that seeks to nurture the next generation of emerging artists. Expect thought-provoking work this year from Vanessa Raw (proposed by Tracey Emin) and a fresh perspective on the art world's future.
Exterior of Carl Freedman Gallery.
Vanessa Raw and Tracey Emin photographed. Vanessa Raw was selected for a studio at TKE in 2022.
Photo by Elissa Cray.
In its formative years, Xavier Hufkens Gallery played a pivotal role in introducing Brussels to some of the most influential contemporary artists, such as Antony Gormley and Felix Gonzalez-Torres. Last year the gallery sold a Tracey Emin painting for over $1 million. They graced the New York 2022 Frieze with a stand that featured a predominantly female cast of artists. We're excited to see what the gallery has planned for this year.
Installation view of Tracey Emin's 'Leave me in my Own Space' (2022) at Xavier Hufktens, Frieze London, 2022.
Photograph by William Cooper-Mitchell. Courtesy Ocula.
Lisson Gallery has been in operation for over 5 decades and has supported many artists who have transformed the very nature of art and its presentation. The gallery has championed the works of important minimal and conceptual artists such as Sol LeWitt and Richard Long, as well as significant British sculptors including Anish Kapoor, Richard Deacon, Shirazeh Houshiary, and Tony Cragg. Lisson Gallery has a longstanding reputation as an influential tastemaker.

Installation view of Lisson Gallery's booth, Frieze London, 2022.
Courtesy of Lisson Gallery.
Thomas Dane Gallery is synonymous with groundbreaking contemporary art, often featuring artists who redefine the boundaries of the medium. Discover fresh, thought-provoking works that will leave a lasting impression. Last year Thomas Dane stunned visitors with an artist curated space by Anthea Hamilton, winning the 2022 Frieze Stand Prize. We're looking forward to what the gallery has in store for this year!
Installation view of Thomas Dane Gallery's winning booth, Frieze London, 2022.
Courtesy Frieze London.
Since 2009, François Ghebaly has been at the forefront of an inventive art program in Los Angeles, spotlighting both local talents and international artists. Renowned for its knack in identifying and uplifting a diverse array of voices and emerging artists. This includes individuals at various stages of their careers, from emerging sensations like Sharif Farrag to mid-career luminaries such as Sayre Gomez, Christine Sun Kim, Kelly Akashi, and Kathleen Ryan.
Installation view of Marius Bercea's solo presentation for François Ghebaly Gallery, Frieze London, 2022.
Courtesy of François Ghebaly Gallery.
In the Editions section this year will be Paragon Press. Founded in 1986, Paragon has become a fixture in the contemporary prints and editions arts scene in the UK. Working with artists to create distinct portfolio print offerings - think Harland Miller and Grayson Perry to name just a few. Paragon's projects have been acquired and showcased in prominent museums and contemporary art collections globally.
LUV
2023
Woodcut on paper
Edition of 50
Signed and numbered by the artist
119cm x 173cm
XL edition
POA | £40,000 - £60,000
Artwork Enquiry
Harland Miller – LUV
The LUV edition has been nearly two years in the making, created from multiple layers of woodcut printing with neon pigments and hand-finishing by the print studio.
As part of this year's Focus section, Ginny on Frederick is a hidden gem that consistently surprises and delights visitors with its curation of innovative and diverse artworks. A hub for experimental and immersive art experiences, this space pushes the boundaries of artistic expression. Dive into their exhibitions for a glimpse into the future of contemporary art. This year they will be presenting a solo exhibition of new work from artist Jack O'Brien.
Installation view of Tommy Xie's 2022 exhibition 'hold me again, in the jadeite gaze' at Ginny on Frederick.
courtesy of Ginny on Frederick
Ginny on Frederick founder Freddie Powell.
Photography by Tom Jamieson.
Whether you're a seasoned art aficionado or a newcomer to the art world, these ten galleries at this year's Frieze Art Fair will be sure to satisfy your appetite for creativity. From established giants like Gagosian and David Zwirner to the avant-garde spirit of Carl Freedman and Ginny on Frederick, each gallery offers a unique perspective on the world of art. Be sure not to miss out on visiting Frieze Sculpture (curated by Fatoş Üstek), the much-celebrated free public art exhibition held at Regent's Park, and of course keeping an eye out for this year's Frieze London Artist Award recipient Adham Faraway.
Are you looking forward to Frieze this year?

Installation view of Louise Nevelson's 'Model for Celebration II' (1976) at Regent's Park. Nevelson is represented by Pace Gallery.
Photo by Linda Nylind. Courtesy of Linda Nylind and Frieze.