"No painter, dead or alive, has ever made us more aware of our eyes than Bridget Riley."
- Robert Melville, 1971
Bridget Riley's drawings and sketches hanging in her studio
1.Bridget Riley was the "It" girl of the 1960s. Riley held another wildly popular exhibition that same year, in the US, at the Richard Feigen Gallery in New York. The show, an exhibition of 16 paintings, was a sell-out success, selling out before it even officially opened. Maurice de Sausmarez, painter and friend of Bridget Riley's, describes the furor that surrounded the artist: 'On the opening day at Feigen's gallery all sixteen works on exhibition were sold and a waiting list compiled of collectors anxious to have one of her works.'In 1999, the Serpentine Gallery exhibited her 1960s and 1970s pictures attracting 130,000 visitors, the highest attendance for a show at Serpentine.
Stretch by Bridget Riley, 1964
2. She has several important firsts.Bridget Riley was the first woman to receive the Sikkens Prize, a prestigious Dutch art award that recognises the use of colour. The Sikkens Foundation has described Riley's work as pure, subtle, and precise as well as a 'sensational oeuvre from which a new generation of artists is drawing inspiration.' In 1968, though she was reluctant to be known as a female artist but rather as an abstract painter, she was the first woman to win the International Prize for Painting at the Venice Biennale.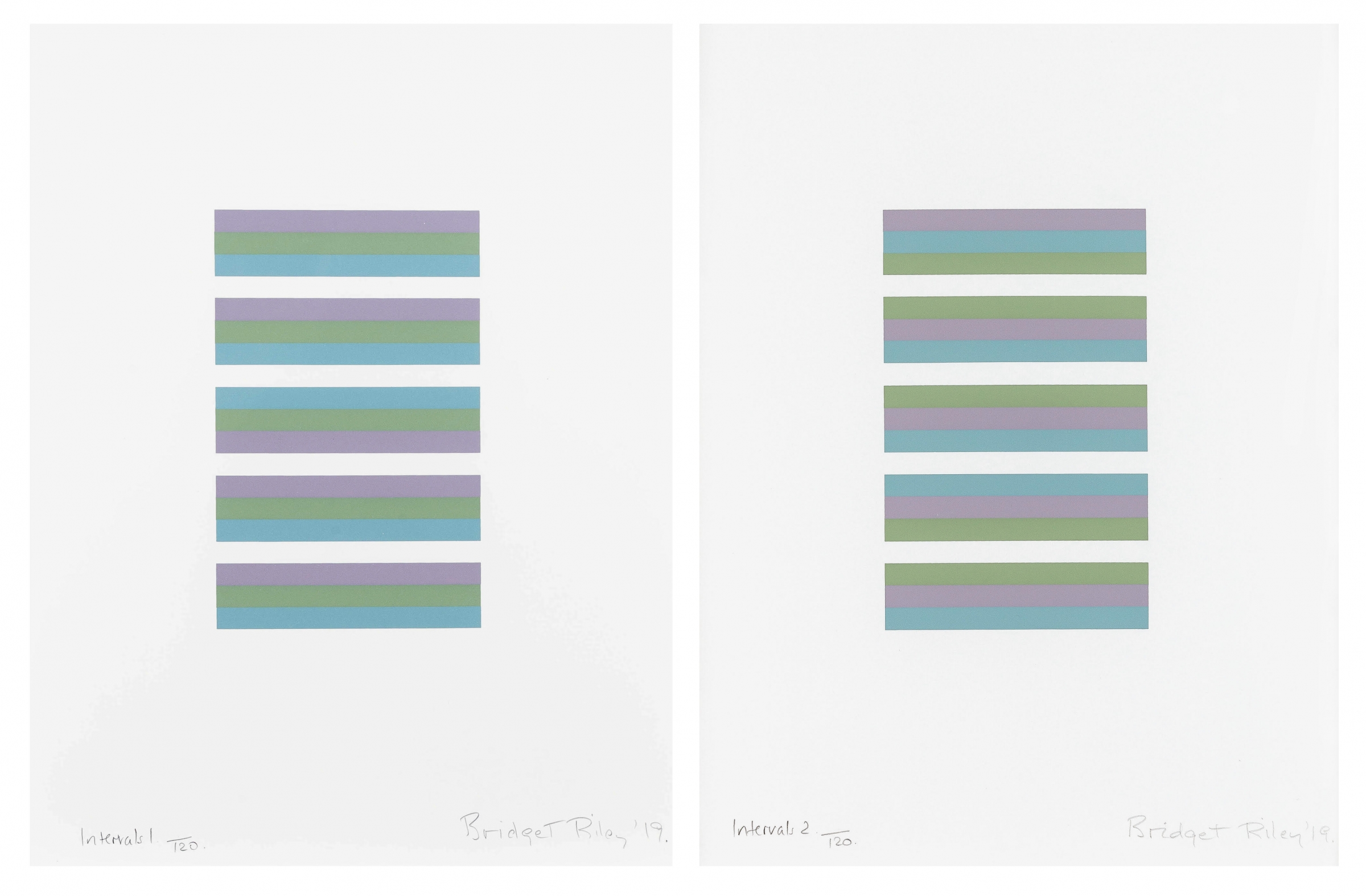 Intervals 1 & 2 by Bridget Riley, 2019, available now
3. Bridget Riley is one of the top ten most expensive living British artists and one of the top ten most expensive living women artists. Her paintings have increased 25,500% in value in the last 25 years. Chant 2 (1967), part of the trio shown in the Venice Biennale, went to a private American collector for $5.1 million, in July 2008, at Sotheby's. This piece was the artist's first work exclusively in colour after years spent experimenting in black and white. In 2006, her Untitled (Diagonal Curve) (1966), a black-and-white canvas of dizzying curves, was bought by Jeffrey Deitch at Sotheby's for $2.2 million, nearly three times its $730,000 high estimate and also a record for the artist.
Cataract 3 by Bridget Riley, 1967
4.Riley believed that art is a social act, which led her to start SPACE in 1968 with her husband, Peter Sedgely. , which she has been running for forty years.Standing for Space Provision Artistic Cultural and Educational, SPACE was an attempt to build a utopia for artists and is now the oldest continuously operating artist studio organisation in London.After 40 years SPACE is still going strong, forming a creative community of artists.providing studios to over 700 artists across the city, SPACE operates a recognised exhibition programme, international residencies and a community-facing learning and participation platform.
5. In 1966 Keith Moon, drummer of the The Who, was photographed wearing a T-shirt adorned with Riley's painting Blaze. Copied freely by graphic designers and fashion magazines, Bridget Riley was upset by the commercialisation of Op Art. In 1965, Riley's exhibition The Responsive Eye, curated by William C. Seitz, was shown at the Museum of Modern Art in New York, which drew worldwide attention to her work and the Op Art movement. Her art was repeated and reproduced by ready-to-wear manufacturers, her paintings commodified without her having a say. Riley is noted as saying that her "heart sank" as she drove from the airport down Madison Avenue, seeing shops littered with dresses based on her paintings. She denounced the way her art was being "vulgarised in the rag trade" and discovered that in the US there was no copyright to protect the work of artists. It was not until 1967 that a US copyright legislation was passed following an independent initiative by New York artists.
Rose Horizontal by Bridget Riley, 2018, available now
To view available works by the trail-blazing artist that is Bridget Riley, click here. Don't hesitate to get in touch should you have any questions or wish to arrange a viewing. Thank you for reading.