Patrick Hughes: The Perspective Paradox
Opens: 26 Oct 2021

Celebrating sixty-years of reverspective
Walk through the show with Patrick Hughes by clicking below.
Celebrating sixty years since his first exhibition
"When the principles of perspective are reversed and solidified into sculpted paintings something extraordinary happens; the mind is deceived into believing the impossible, that a static painting can move of its own accord" Patrick Hughes

Hughes was a pioneering figure on the Pop Art scene. Back in 1961, his first exhibition at the Portal Gallery in Mayfair was also the first ever solo Pop Art exhibition – and shortly afterwards he invented his revolutionary technique, Reverspective. This trademark method involves painting onto 3D shapes to create the idea of perspective as the viewer moves around the work.

The illusion is made possible by painting the view in reverse to the relief of the surface, that is, the bits that stick farthest out from the painting are painted with the most distant part of the scene.
Patrick Hughes
Though Hughes's technique has been linked to Op Art (a key movement during the 1960s), Reverspective is unique because viewers are able to engage in the illusion by moving around the work to feel the full effect, rather than simply by looking at it straight on. Because of this key difference, Hughes terms his paintings 'full body illusions'.
The Writing on the Wall detail.
Simon Kallas
Gallery View
Simon Kallas
Detail of Window Shopping
Simon Kallas
The artist's obsession with looking at things upside down and the wrong way round has its roots in a childhood memory. Sheltering from WWII bombs in the cupboard under the stairs of his Birmingham home, Hughes would look up and consider the staircase from underneath – a different way of seeing things that has informed his thought process and themes throughout his career.
Gallery View
Simon Kallas
Detail of Caring Haring
Simon Kallas
Detail of The Writing on the Wall
Simon Kallas
Peggy was officially released on the occasion of the Q&A night at Hang-Up Gallery on 25 November. The conversation was led by Hughes' long-time friend and former BBC correspondent Rosie Millard.
15 Dec 2021
The charismatic artist regaled a rapt audience with tales from his 60-year career during an evening at the gallery
"There are many things that I would share, but sometimes I think the most profound thing that's happened to me has been meeting other eccentric, misunderstood, or overlooked artists."
ART PLUGGED:
Reflecting on a life well lived with artist and inventor of Reverspective Patrick Hughes
Read the full interview on Art Plugged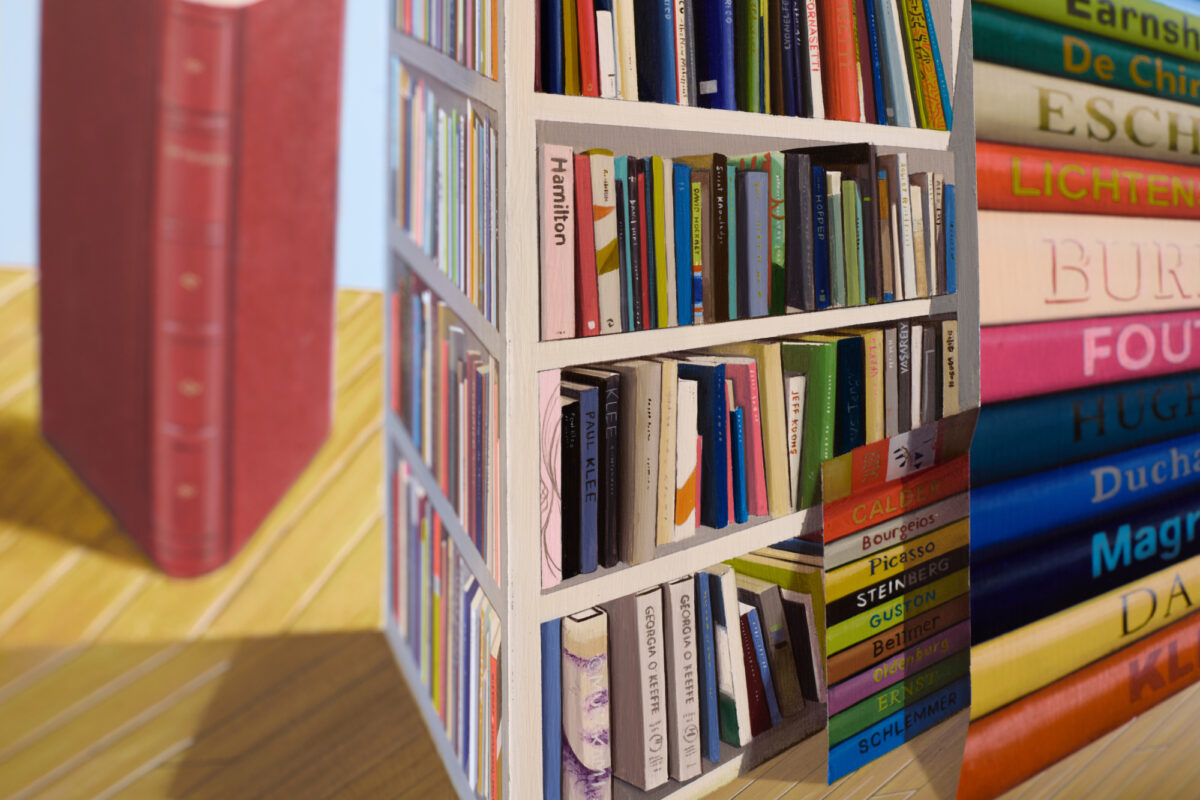 29 Oct 2021 – 16 Dec 2021