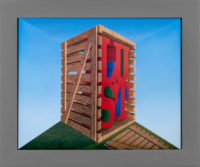 Lusty
Sold
Artwork Enquiry
Patrick Hughes – Lusty
2020
Oil on board construction
Original
Signed by the artist
38cm x 10cm x 32cm
Worldwide shipping using specialist art couriers
Shipping Options
Shipping pricing calculated at Checkout
This artwork requires special packing
Request Quote
Hughes was a pioneering figure on the Pop Art scene. Back in 1961, his first exhibition at the Portal Gallery in Mayfair was also the first ever solo Pop Art exhibition – and shortly afterwards he invented his revolutionary technique, Reverspective. This trademark method involves painting onto 3D shapes to create the idea of perspective as the viewer moves around the work.
Get Patrick Hughes Updates
Be the first to know about new Patrick Hughes Works and Viewing Rooms.
Despite being largely self-taught, Patrick Hughes devised a unique and intricate style of painting known as 'reverspective' which has been widely admired (and sometimes copied). Hughes's signature 3D paintings of galleries, streets and landscapes are designed so that viewers can interact with them to create incredible optical illusions of movement. He made his first work in this way in 1964, but then abandoned the process until 1990, instead making art...
POA | £20,000 – £40,000
POA | £40,000 - £60,000
£24,000
£4,800
£600
£5,400
POA | £60,000 - £80,000
POA | £60,000 - £80,000
POA | Over £160,000
POA | £40,000 - £60,000
POA | £60,000 - £80,000