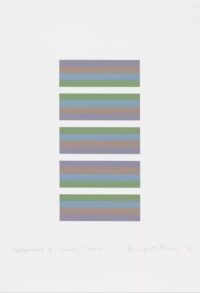 Intervals 3 (Green/Purple)
£7,500
Apply for Own Art
Buy 'Bridget Riley – Intervals 3 (Green/Purple)' with 10 interest free instalments of £750.00
Artwork Enquiry
Bridget Riley – Intervals 3 (Green/Purple)
2021
Screen print on paper
Edition of 75
Signed and numbered by the artist
38cm x 56cm
Sold framed
Worldwide shipping using specialist art couriers
Shipping Options
Shipping pricing calculated at Checkout
This artwork requires special packing
Request Quote
In Intervals 3, Bridget Riley returned to the stripe, a form she has used regularly since 1967. Five blocks of coloured stripes in purple, orange, green and blue are pitched against white bands – creating the intervals of the title – and surrounded by a white border. Intervals 3 is the third and most recent in a series of Intervals paintings that Riley began in 2018.
Get Bridget Riley Updates
Be the first to know about new Bridget Riley Works and Viewing Rooms.
First inspired to paint by the Cornish landscapes of her childhood, Bridget Riley has gone on to become one of the modern era's most influential artists and was the subject of a recent retrospective at London's Southbank Centre. Trained at Goldsmiths and the Royal College of Art, she gained acclaim with her 'Op-art' pictures of the 1960s and is known for her shapes and patterns that seemingly move before a...