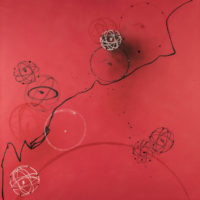 The 4 Elements (Set of Four)
Sold
2019
Screen print on paper
Signed and numbered by the artist
50 x 50 cm
Edition of 100
Sold as a set of four prints
Worldwide shipping using specialist art couriers
Shipping Options
Shipping pricing calculated at Checkout
Upgrade to a sturdy Flat Pack
Medium Flat Pack
The 4 Elements' edition was printed by Dolly Demoratti at Urban Spree Prints. Each print represents one of the four elements: Earth, Fire, Water, Air.
Get Futura 2000 Updates
Be the first to know about new Futura 2000 Works and Viewing Rooms.
A big name on the street art scene of 1980s New York, Futura 2000 (real name Leonard McGurr) exhibited his work with Jean-Michel Basquiat and Keith Haring, as well as apparently briefly dating Madonna. Known for his abstract designs featuring the Pointman and repeating atom symbols, he's collaborated with James Lavelle and The Clash, and remains a street art icon thanks to collabs with big brands including Supreme and Nike.