Wolf Sausage - AP
Sold
1982-83/2019
Screen print on paper
Artist's Proof of 20
Stamped and signed by Lisane Basquiat and Jeanine Heriveaux, the artist's sisters and administrators of the Estate of Jean-Michel Basquiat.
76cm x 56cm
Sold framed
Exhibition view, Hang-Up Curates Vol. IV, Hang-Up Gallery, London, 2022.
simon kallas
Worldwide shipping using specialist art couriers
Shipping Options
Shipping pricing calculated at Checkout
Free UK Shipping in Tubes
Medium Tube
Upgrade to a sturdy Flat Pack
Medium Flat Pack
The Estate of Jean-Michel Basquiat plays a major role in keeping the artist's legacy alive by preserving and exhibiting the artwork of Basquiat. It was administrated by Gerard Basquiat, the artist's father, until his passing in 2013. It is currently administered by the late artist's sisters, Jeanine Heriveaux and Lisane Basquiat.
Get Jean-Michel Basquiat Updates
Be the first to know about new Jean-Michel Basquiat Works and Viewing Rooms.
The most notorious artist of the 1980s New York gallery scene, Basquiat hung out with Warhol, appeared in a Blondie video, and died of an accidental overdose at just 27 years old. Starting his career with witty street scrawlings under the tag SAMO, he went on to achieve superstar status through topical pieces with wide-ranging reference points – from his Puerto Rican heritage to the medical textbook, Gray's Anatomy. Basquiat...
POA | £80,000 - £120,000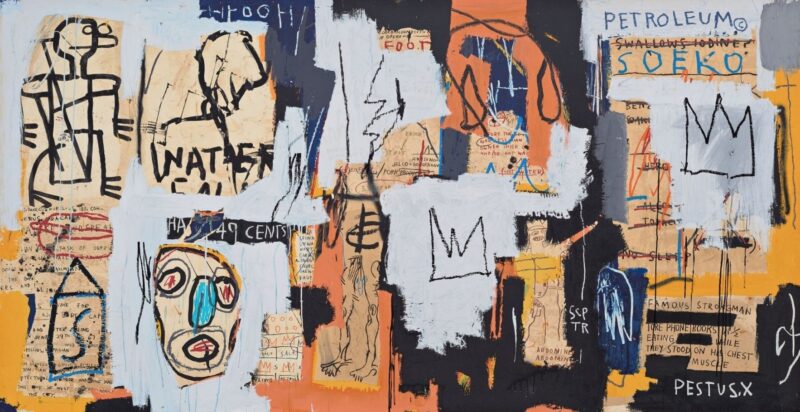 POA | £80,000 - £120,000