Worldwide shipping using specialist art couriers
Shipping Options
Shipping pricing calculated at Checkout
This artwork requires special packing
Request Quote
The classic Banksy 'Love Is in the Air (Flower Thrower)' is becoming increasingly difficult to source and is widely regarded as a highly collectable iconic Banksy image. The original street piece first appeared in 2003 in Jerusalem shortly after the construction of the West Bank Wall, which has since become a popular canvas for the artist in protest against the Israeli barrier. Recently an unsigned 'Love Is in the Air' was auctioned at Sotheby's for an outstanding result of £214,200.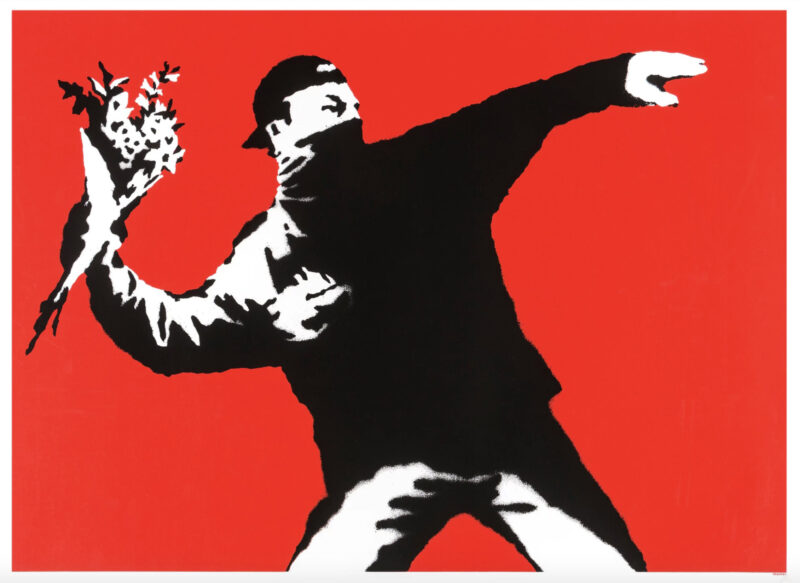 Edition Details
Signed:
An unknown number of signed prints exist, thought to be around 50. Please note these are not necessarily numbered in a sequential order.
Unsigned:
Unknown number, thought to be around 450.
Signature:
Signature on the right and numbering on the right
Auction Record:
$687,500
Christie's New York, 'Love Is in the Air', December 2020
Get Banksy Updates
Be the first to know about new Banksy Works and Viewing Rooms.
The most famously anonymous artist in the world, Banksy made the front pages when he auto-shredded Girl With Balloon during a 2018 Sotheby's auction. Known for his thought-provoking social commentary, Banksy's varied works include the Walled Off Hotel (with its view of the West Bank barrier), cover art for Blur's Think Tank album, and a gigantic graffiti piece about Brexit, in the UK port of Dover.