Artists and their Influences
At Hang-Up Gallery, we're constantly inspired by the creativity and innovation of contemporary artists. We believe that every artist is shaped by a unique set of influences, whether it be the work of past masters, personal experiences, or cultural movements. In this editorial, we explore the diverse range of artistic influences that shape the work of some of today's most exciting artists. From the Old Masters of the Renaissance period to the cutting-edge trends of today, we delve into the sources of inspiration that drive artists to create and push the boundaries of their craft…
Boo Saville is a contemporary British artist best known for her large-scale, abstract paintings that explore themes of life, death, and the human body. She points towards a variety of artistic influences, including the paintings of Francis Bacon and Lucian Freud, as well as the writings of philosopher Friedrich Nietzsche and poet Sylvia Plath. In the past, Saville has spoken about the impact of her own experiences with illness and mortality on her art.
True Colours Exhibition, 2018. Courtesy Newport Street Gallery
Photo by Prudence Cuming Associates
Dave White is primarily known for his pioneering of the Sneaker Art movement and energetic paintings of animals. Over the years he's cited a variety of influences on his work, including his childhood fascination with nature and wildlife, as well as his love of street art and graffiti. White has also spoken about the influence of artists such as Jean-Michel Basquiat and Francis Bacon on his approach to painting, and he often incorporates bold, expressive brushstrokes and vibrant colours to bring his work to life.

Dave White's solo exhibition at Hang-Up: Extinct
Photo by Simon Kallas
Grayson Perry (otherwise known as his female alter-ego Claire) is influenced by a variety of sources, including popular culture, art history, and a variety of personal experiences. He has cited the work of artists such as William Hogarth, Robert Rauschenberg, and Marcel Duchamp as influential to his own creative practice. Perry has also spoken about the impact of his upbringing in a working-class family, his interest in cross-dressing and gender identity, as well as his experiences with depression and therapy on his art.
Sponsored by You
2019
Etching on paper
Signed and numbered by the artist on verso
69 x 101 cm
Edition of 68
£12,000
Make an Offer
For 'Grayson Perry – Sponsored by You'
Please note only sensible offers will be considered.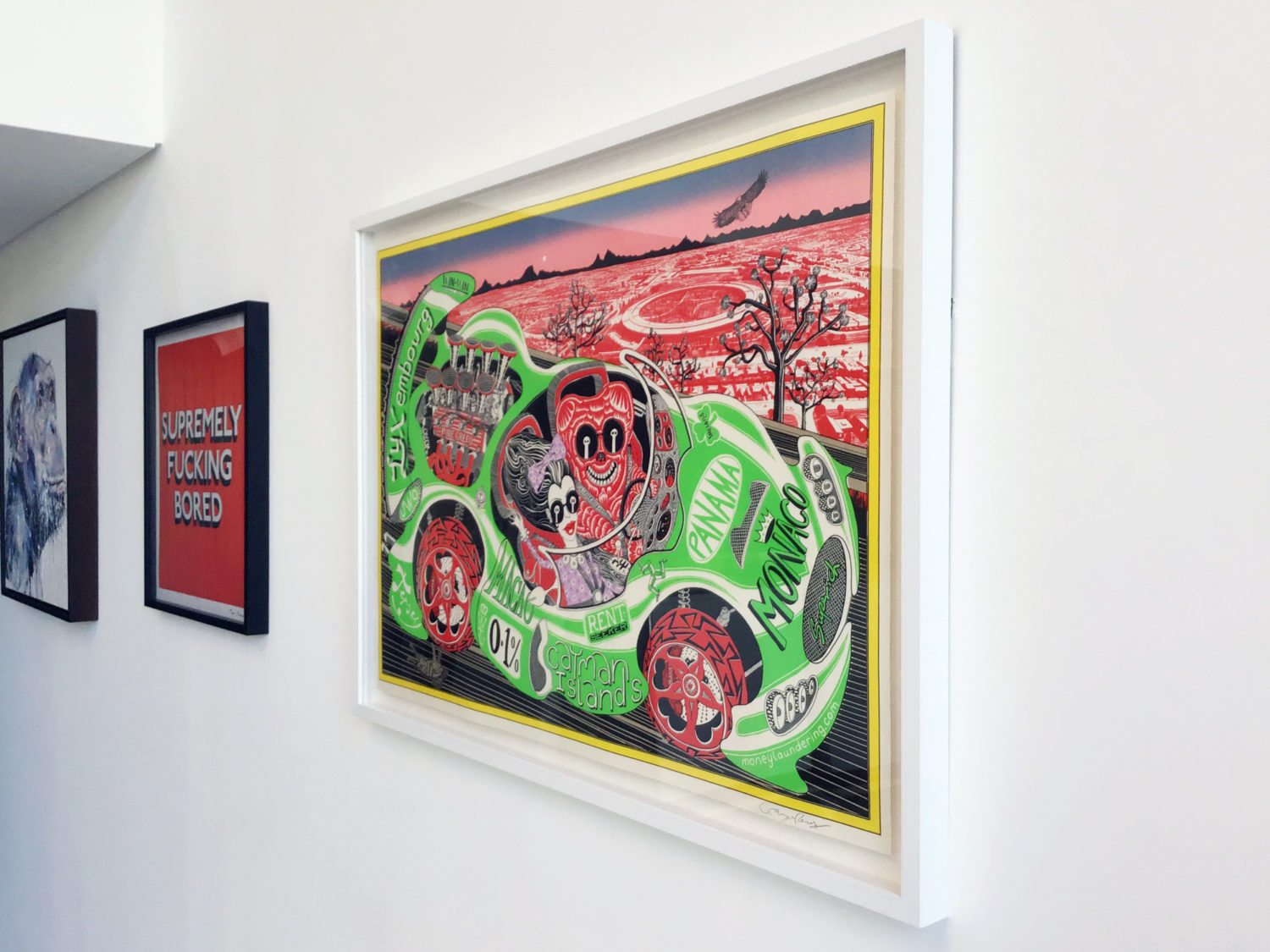 In this colourful etching, the artist explores contemporary issues with the usual mix of dark humour and light-hearted wit. His mantra during the making of the work? Nam Jun Paik's famous quote "the artist should always bite the hand that feeds him – but not too hard."
George Rouy is an up and coming young British artist heavily influenced by both contemporary and ancient traditions and pop culture. He's been praised for his focus on the human figure, exploring body mutations and transformations of identity surrounding the human condition, drawing comparisons to the work of Francis Bacon. Additionally, Rouy has cited 15th century masters Jean Fouquet and Rogier van der Weyden as inspirational.
George Rouy in his studio for Avant Arte
Photo by Tim Craig
Rouy's solo show 'In Dirty Water', 2017
J Hammond Projects
Jean-Michel Basquiat was heavily influenced by a wide range of sources, including street art, graffiti, hip-hop culture, African art, Zydeco, Mississippi Delta Blues, and the works of artists such as Pablo Picasso, Vincent van Gogh, and Cy Twombly. He also drew inspiration from his own experiences growing up in Brooklyn and his interest in social and political issues surrounding the African-American experience.
"The series explores the wealth of music references in his paintings, and the themes of justice and resistance inseparable from those references,"
Broad museum director Joanne Heyler
Mark Powell is known for his detailed, lifelike drawings of people and animals, often created using vintage ephemera as his canvas. He's cited a variety of influences on his work, including the Old Masters of the Renaissance period, such as Leonardo da Vinci and Michelangelo, as well as contemporary artists like Jenny Saville and Lucian Freud. Powell is also inspired by the history and character of the materials he works with, such as the aged paper he uses for his drawings, often incorporating elements of the paper's texture and colour into his compositions.
Patrick Hughes coined the "reverspective" technique, which creates an inverted optical illusion on a three-dimensional object. Influenced by the history of art and architecture, he often references famous historical works and styles from throughout art history in his paintings. Hughes has spoken about the impact of his experience with dyslexia on his art and often incorporates clever wordplay and visual puns into his compositions. Other wide-reaching influences include the Bauhaus movement, Paul Klee, Giorgio de Chirico, René Magritte, M. C Escher and the writings of philosophers such as Ludwig Wittgenstein.
Patrick Hughes's solo show at Hang-Up in 2021: The Perspective Paradox
Photo by Simon Kallas
Tracey Emin states that she's been influenced by a variety of factors throughout her life and career, including her personal experiences, relationships, and struggles with mental health. Over the years she's mentioned the work of other artists, such as Edvard Munch and Egon Schiele, as significant influences on her own artistic style.
"Tracey Emin/Edvard Munch: The Loneliness of the Soul" At The Royal Academy Of Arts, 2020
Getty Images
11 May 2023 | 4 min read
Mark Powell is known for his intricate Biro drawings on found material.
11 May 2023 | 4 min read
Looking to buy artwork that reflects the seasons? We've curated a selection of works by artists that represent each of the changing seasons: Spring, Summer, Autumn, and Winter. Featuring artwork from Dave White, Mark Powell, Tim Fishlock, Jose Parla, Patrick Hughes, David Shrigley and others. Look no further than this editorial to get your seasonal art fix.
10 May 2023 | 3 min read
This week we take a look at Hang-Up artists and their long-term love affair with colour.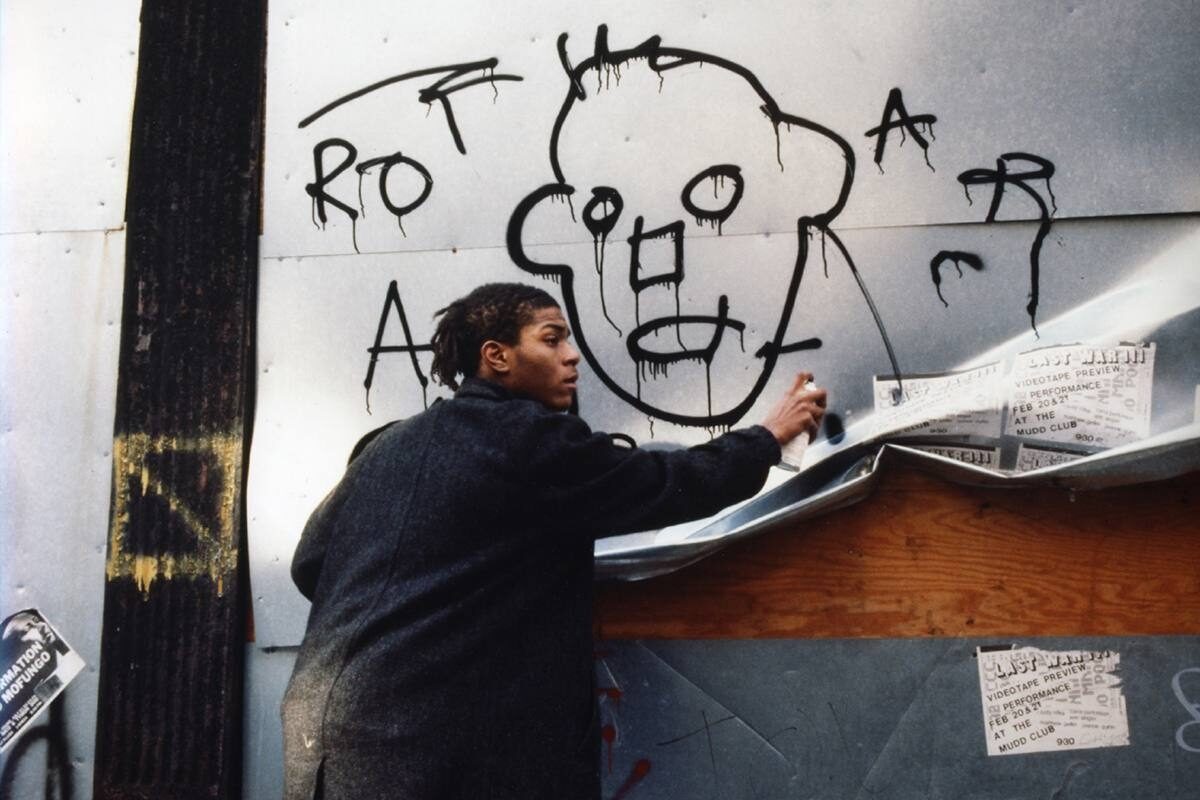 22 May 2023 | 3 min read
10 May 2023 | 3 min read