Charlotte Bain, Hang-Up's artist liaison manager, reviews the art highlights of the year so far.

The One to Watch
Rachel Jones | say cheeeeese | Chisenhale Gallery | London
This textural sensation was one of my stand-outs of the season. Using only oil sticks and pastels on canvas, Jones creates vibrant canvases that question our long-held colour associations to fantastic effect. This was her first solo show at an institution, so she's definitely one to watch.
Rachel Jones, exhibition "say cheeeeese" at Chisenhale Gallery, London.
Roman Road London / Andy Keate
Ceramic Fantastic
Alma Berrow | No More Than Five | Lamb Gallery | London
Ceramics are finally having their time in the sun thanks to artists such as Grayson Perry, who are demonstrating the versatility and impact of the medium. Alma Berrow is another such name, bringing ceramics to the forefront of contemporary art. As I walked through the packed private view of her exhibition at Lamb Gallery this Spring, there was a sense of stumbling upon an intimate moment around a chequerboard – a moment that invites speculation (was this the scene of debauchery or merely an intimate, quiet moment?). These ceramic dioramas hold so much story-telling power that viewers are instantly hooked on analysing them and discovering more intricate details.

Hang-Up's Finest
Tim Fishlock | PARADISE VERSION | Hang-Up Gallery | London
Witnessing and experiencing someone's passion through their art is often the key to getting the best out of a show. PARADISE VERSION was just this – a joyous celebration of Fishlock's deep love for music and record collecting.

Tim Fishlock with artist liaison manager Charlotte Bain and gallery manager, Laura Rivas-Lopez at PARADISE VERSION's private view. Hang-Up Gallery, London.
Salvatore Scarpa
The Big Basquiat Show
Jean-Michel Basquiat | King Pleasure© | Starrett Lehigh | New York
It was so special to witness a lifetime of work from one of contemporary art's most famous figures. The immersive nature of this exhibition was enthralling too: you can walk through a recreation of Basquiat's studio where the TV's on and books, drawings and canvases are sprawled across the floor. Hang Up currently has a print of one of the most captivating paintings in the show, Hollywood Africans.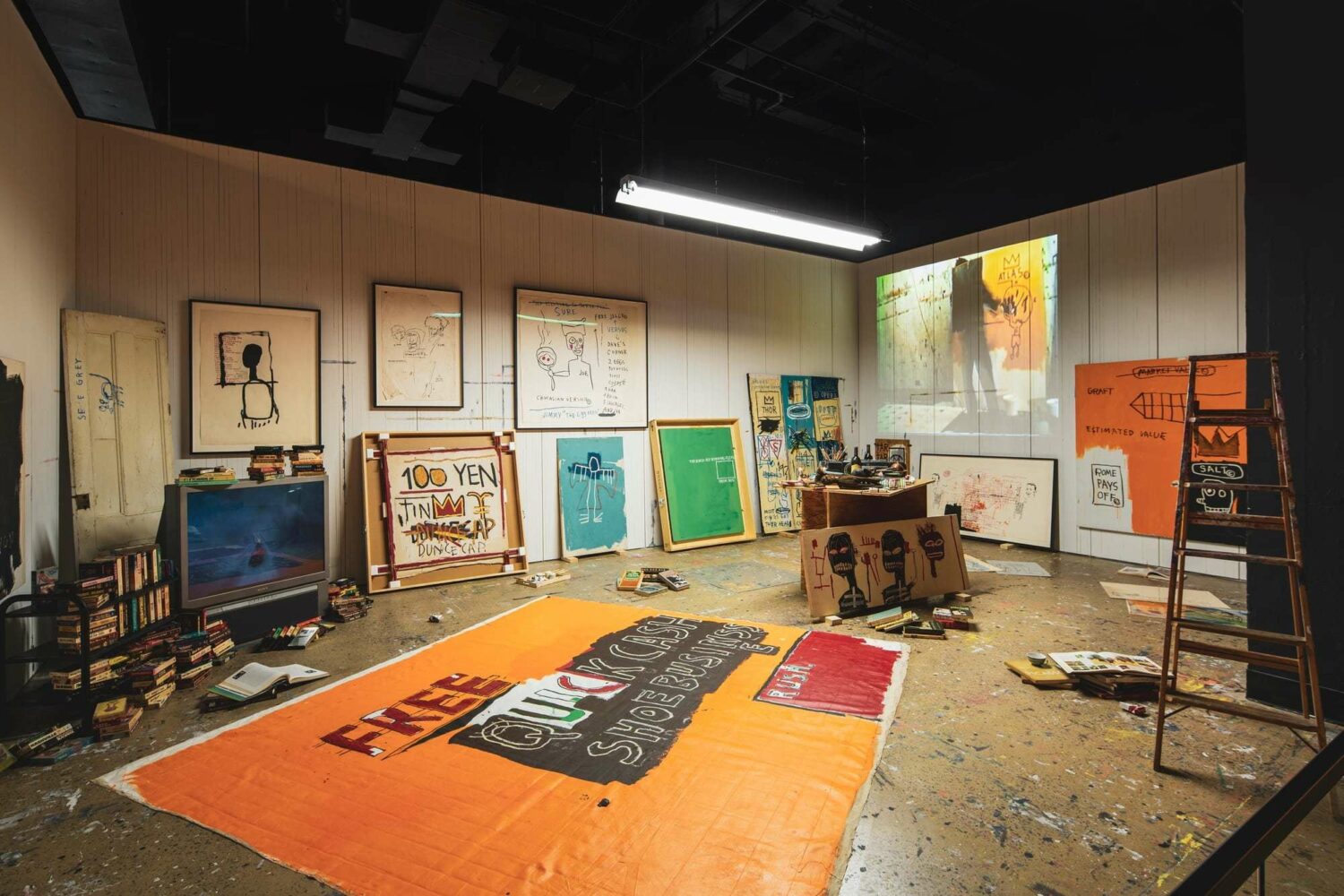 Jean-Michel Basquiat, King Pleasure at Starrett-Lehigh Building, New York.
This Is Colossal / Ivane Katamashvili
Women at the Top
Louise Bourgeois | Woven Child | Hayward Gallery | London
I was first inspired to see this show because of Bourgeois's links to Tracey Emin, one of Hang Up's most in-demand names (the duo collaborated on a series of works shortly before Bourgeois's death). While Bourgeois work is obviously very different to Emin's, the pieces in this show all incorporated textiles, providing another parallel. The exhibition was extraordinary: a series of strange sculptures of bodies, shoes and more, all compellingly "off". And then there were, of course, the spiders that Bourgeois is famous for, one of the biggest menacingly guarding items in its iron cage.

Louise Bourgeois: The Woven Child, installation view, Hayward Gallery, London.
Mark Blower / The Hayward Gallery
To discuss works by Grayson Perry, Jean-Michel Basquiat or Tracey Emin, please get in touch.